Map Unavailable
Date/Time
Date(s) - 03/28/2020
6:00 pm - 10:00 pm
Location
The AgriCultural
Categories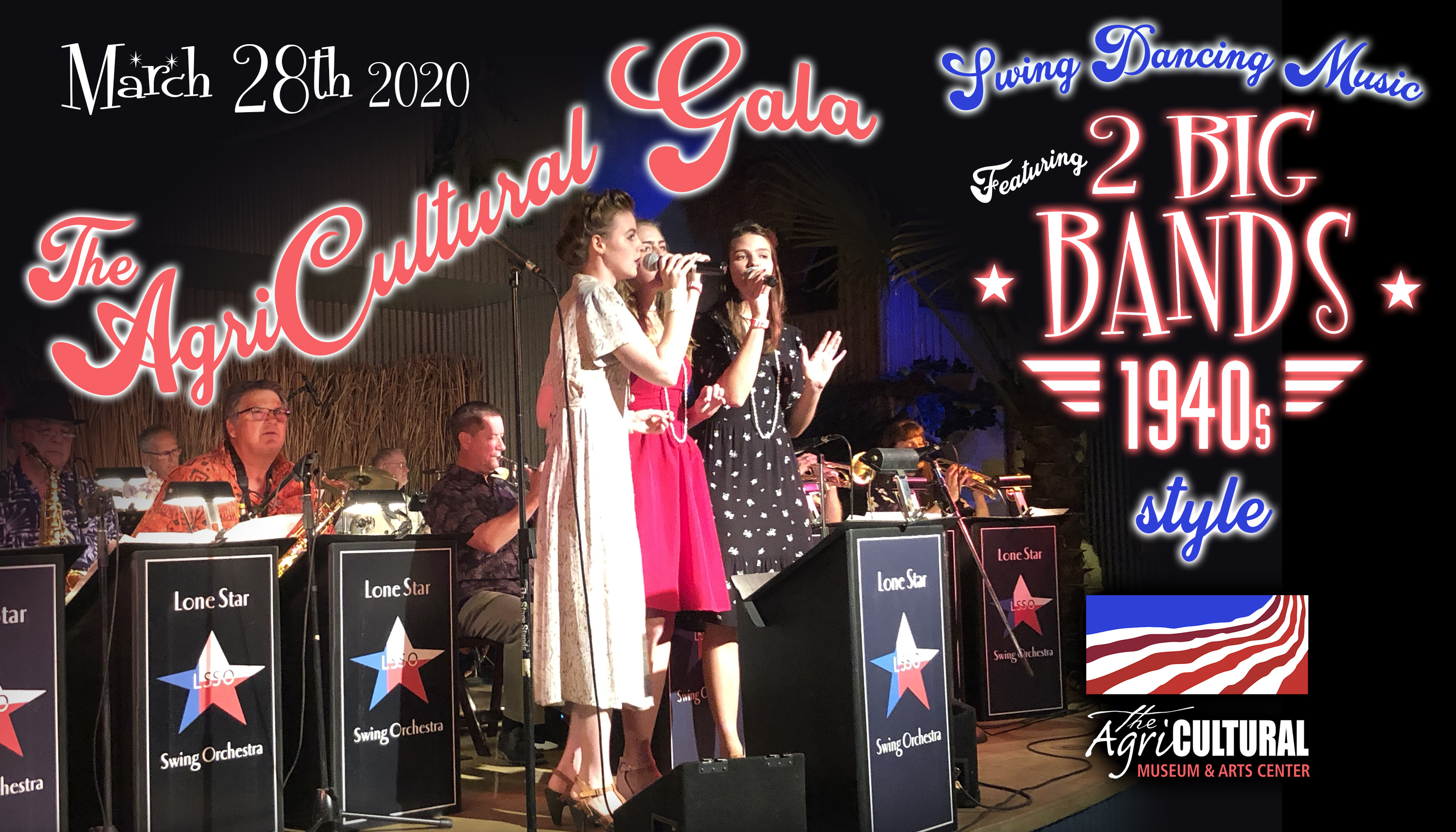 **** March 28, 2020 ******
The AgriCultural Gala
Featuring 2 Big Bands

Annual Fundraiser for
The AgriCultural Museum and Arts Center

Location is 102 City Park Rd in Boerne at the AgriCultural.
Join us for 2 full Big Bands as they entertain us all evening in our Big Red Barn.
The Boerne Village Band will begin the evening with 1940's tunes like you've never heard them play before. The 16 member Lone Star Swing Orchestra will headline the evening with their Swing Dancing style music and singing by Bill Smallwood and the Dillard Sisters. There will be lots of dancing, door prizes, fundraising games and more!
A cash bar with beer, wine and a 1940's signature cocktail will wet your whistle.
Heavy hors d'oeuvres will be served as part of your ticket price.
Dress in your military regalia or 1940's themed outfits to add flair to the evening's theme.
Tickets are $50 per person.
Limited 250 tickets, so get yours now!
Seating is first come, first served with plenty of chairs and cocktail tables.
Reserved VIP tables are available by contacting Kristy at 210-445-1080 or emailing theagricultural@gmail.com
Time is 6 pm – 10 pm Saturday, November 9, 2019
This event takes place rain or shine.
Location is 102 City Park Rd in Boerne at the AgriCultural.
Tickets are available below.
Thank you for supporting The AgriCultural!
No refunds once tickets are purchased.
Event takes place Rain or Shine.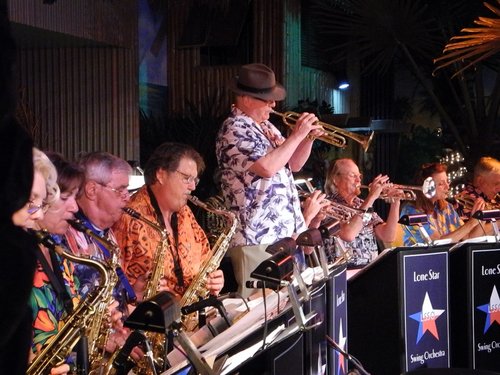 The AgriCultural
BIG BANDS IN THE BARN GALA
SPONSORSHIP OPPORTUNITIES
* PONDEROSA Level $2000
– VIP table seating for 10 at the Gala
– Special access to the VIP refreshment room
– Your name and logo on all, Social Media, and Ads
– Your name displayed on donor board
– Banner prominently displayed in the Big Red Barn at the Gala
– Your name and logo and website link displayed on the – – Agricultural website for 2020
– Your name and logo on HCCArts website, social media and email mailing list
– Dual Membership to The Agricultural & HCCARTS
– Commemorative gift from our blacksmith
* RANCH Level $1000
– VIP table seating for 8 at the Gala
– Special access to the VIP refreshment room
– Your name and logo on all posters, mailers, Social Media, Ads
– Your name displayed on donor board
– Your name, logo and website link displayed on the – – Agricultural website for 2020
– Your name and logo on the HCCArts website, social media and email mailing list
– Dual Membership to The Agricultural & HCCARTS
– Banner prominently displayed in the Big Red Barn at the Gala
– Commemorative gift from our blacksmith
* HOBBY FARM Level $500
– VIP table seating for 6 at the Gala
– Special access to the VIP refreshment room
– Your name displayed on donor board and website link displayed on the Agricultural website for 2020
– Your name displayed on HCCArts website, social media and email mailing list
– Dual membership to The Agricultural & Membership to HCCARTS
– Your name and logo displayed on the Agricultural website for 2020
– Banner prominently displayed in the Big Red Barn at the Gala
* SHARECROPPER Level $250 (no reserved seats)
– Special access to the VIP refreshment room for 1
– Your name will be displayed on our donor board
– Your website link displayed on the Agricultural website for 2020
– Your website link displayed on HCCArts website, social media and email mailing list
– Dual membership to The Agricultural & to HCCARTS
For More Information or to Request a Sponsor Packet
Contact: Kristy Watson 210-445-1080