Map Unavailable
Date/Time
Date(s) - 10/19/2019 - 10/20/2019
10:00 am - 6:00 pm
Location
The AgriCultural
Categories
2019 Invitational Art Show
Boerne Professional Artists
Saturday 10 am – 6 pm
Sunday 11 am – 5 pm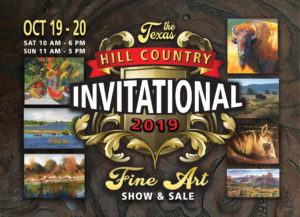 2019 marks the 16th year Boerne Texas has hosted the Texas Hill Country Invitational Fine Art Show, featuring accomplished artists from across Texas. The artists who participate are an annually evolving mix of nationally known artists and area emerging talents whose paintings, sculptures and photography have garnered the attention of everyone from naturalists to collectors. There will be demonstrations during the weekend by selected artists.
Rex Hausmann is a nationally and internationally known artist who will be judging the competition of over 40 fine artists exhibiting wildlife, landscapes, still life, sculpture, fine art photography, and contemporary works. His 2018-2019 exhibits in New York were "The New Ephesus: Stations", Sheen Center NYC, New York  and  "The New York Project"  All Things New York.  He has shown work at the Smithsonian in Washington DC, The institute of Texan Cultures, Neiman Marcus, The Lawrence Art Center, and Cloister at Sea Island Resort. He also lectures at the McNay Museum of Art, TEDx San Antonio at Trinity University, The San Antonio Museum of Art, and the University of Texas at San Antonio, as well as abroad.
This year's exhibition is free and open to the general public on Saturday, October 19th  from 10am to 6pm and Sunday, October  20th  from 11am to 5pm at the Boerne AgriCULTURAL Museum and Art Center. VIP ticket holders have access to exclusive previews Friday, October 18th from 7pm to 9pm . The VIP reception kicks off with a Quick Draw contest at 7pm where artists race to complete a painting in just one hour and ends with a live auction at 8:30pm. This year 50% of the Auction proceeds will go to the AgriCULTURAL Museum and Art Center Childrens' Summer Art Camps.
Among the participating artists are six nationally and internationally recognized guest artists, Madelyn Sneed-Grays, a representational painter from Dallas, Texas currently working on her travels and experiences in France;  Suzie Baker, known for her versatility as a plein-air artist and a studio painter, produces landscapes, still life, figurative works, and portraits;  Matt Tumlinson,  a multifaceted artist from San Antonio, produces western themes on canvas and bullet shell casings; Tyler Butcher exhibits his unique contemporary works across the US, Europe and Asia; John De Leon is a plein-air and studio artist of portraits, figurative, and landscape paintings; and Julene Franki, a plein-air artist, creates her landscapes and flora with acrylic and a palette knife; Don Lisy is a plein-air artist.  The  artists representing Boerne Professional Artists (BPA) are Kristy Watson, Chris Lange, Denise Locke, Mark Holly, Rita Kirkman, Anita Johnson, Carolyn Roberts, Harold Teel, Louis Garcia, Morgan Hampton, Noma Freeman, and Patty Dunbar.
New to this year's show is Janice Hindes.  Janice is one of the highly recognized artists from San Antonio with numerous awards and exhibits including the Cowboy Artist of America Museum and the Gilcrease Museum. She has also won Best of Show Regional OPA and is a signature member of OPA and a member of the National Association of Professional Plein Aire Painters.
The artists will exhibit landscapes, wildlife, still life, portraits, sculpture, fine art photography, encaustic contemporary works, and more. These images reflect the lives and interests of the artists and really show their connection to the places and things they depict. Artworks are on view and for sale through Sunday and the artists are available to mingle with visitors throughout the weekend.  There is a lot of fellowship that comes with our events, and people really appreciate the relationships they build by coming to the show.