June 1, 2019
10 am – 4 pm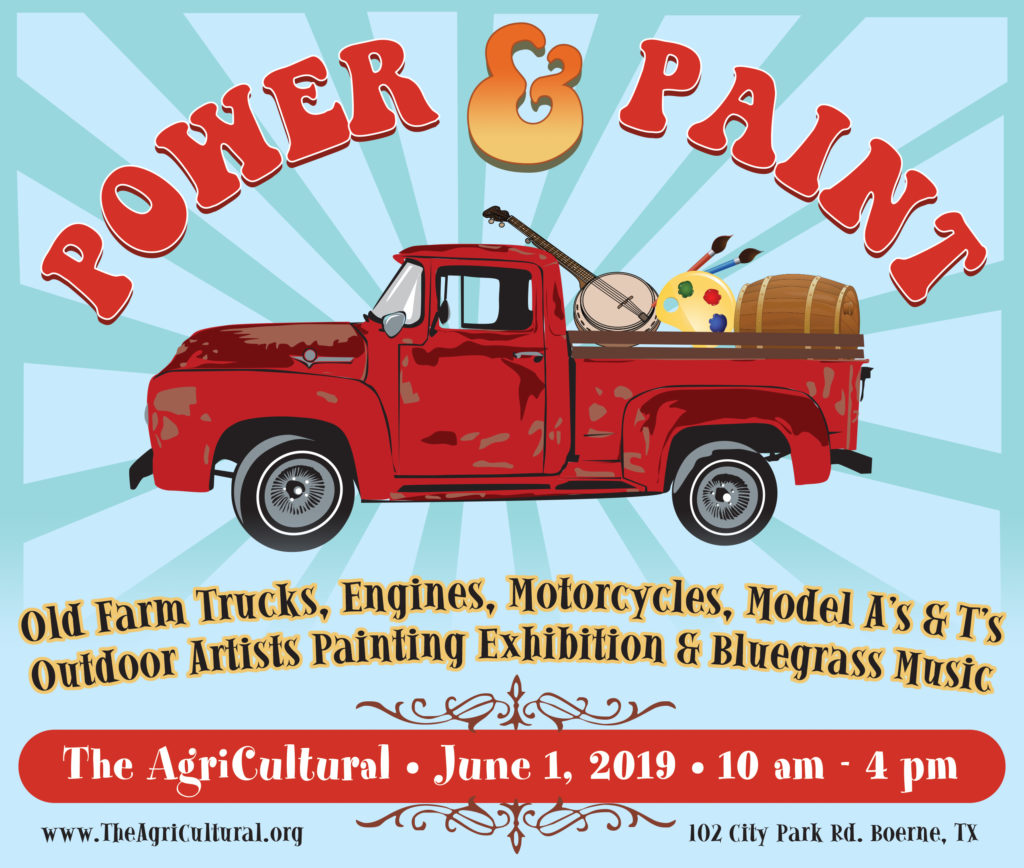 This is a public show that is a first of its kind that includes vintage vehicles and artists in one show. The AgriCultural is inviting vintage trucks, vintage motorcycles, antique engines, and other unique vehicles. The Hill Country Council for the arts is inviting plein air artists to paint the vintage vehicles as subjects of their art and to exhibit their paintings for sale.
Listen to bluegrass music at the musicians play from 11 am to 3 pm. Oak Hollow BBQ Food truck will be there for lunch and more!
If you are participating with a vintage truck, car, or motorcycle, please join us for a cruise through downtown Boerne. Line up at 10:00 am to leave by 10:30 am at the AgriCultural 102 City Park Rd, Boerne. The police escorted cruise through town will return to the AgriCultural about 11:00 am. The show will follow.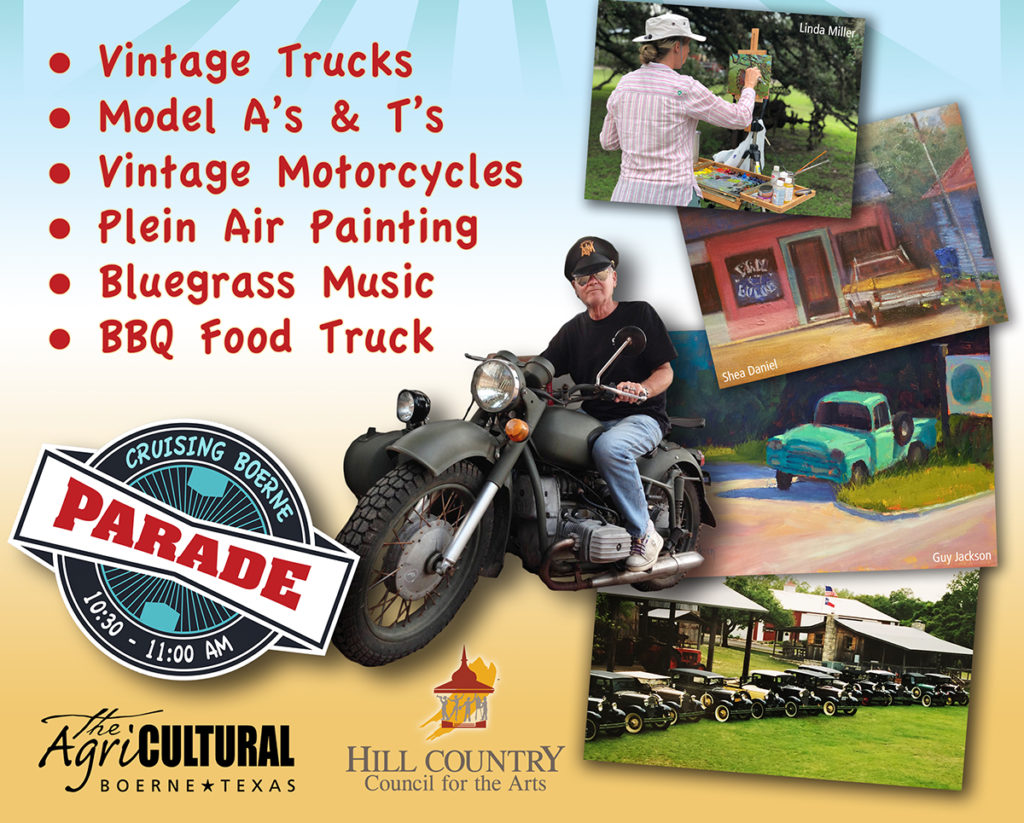 Plein Air Artists are invited to the AgriCultural on Thursday and Friday prior to the Power & Paint show on Saturday to paint a selection of vintage vehicles parked in shady areas around the museum grounds. Continue your paintings and show your works for sale on Saturday when over 300 attendees and over 30+ additional vintage vehicles arrive to the show.
Refreshments will be served in the pioneer house for the artists including coffee, water and snacks.
SCHEDULE
PLEIN AIR PAINT OUT
Date: Thursday May 30 Time: 7 am – dusk
Date: Friday May 31 Time: 7 am – dusk
POWER & PAINT SHOW
Date: Saturday, June 1, 2019
Time: 10 am – 4 pm
(Notice: parade of vehicles through town of Boerne from 10:30 – 11:00) Viewers Choice Awards will be given to the top 3 wet works at 3pm.
PARADE OF VINTAGE VEHICLES THROUGH DOWNTOWN BOERNE
Date: Saturday June 1, 2019
Time: 10:30 – 11:00
ARTISTS & VINTAGE VEHICLE SHOW SET UP
Date: Saturday, June 1, 2019
Time: 7 am – 9 am (or anytime on Friday May 31)
Where: 102 City Park Rd, Boerne, TX 78004
Parking: Cars & Trailers not part of the show may park in the field across from the AgriCultural (Fairgrounds parking lot).
Bring your tent if you have one, or find a covered space on the AgriCultural grounds of your choice on a first come, first served basis. See Paula Horner or Kristy Watson for availability of location set up when you arrive. REGISTRATION:
Artists can register online www.HCCARTS.org or in the Pioneer house at the AgriCultural on Thursday, Friday, or Saturday 7 am – 10 am.

Vehicle owners can register on the morning of Saturday June 1, 2019 at the AgriCultural before 10:30 am.
COST:
Artists: $35 donation to the Hill Country Council for the Arts to become a member to participate. Form and payment at www.HCCARTS.org includes your participation to the plein air paint out and to the show.
All sales of artwork at the show go to the artists 100%.
Vehicle Owners and Visitors: may make a donation to the AgriCultural on the morning of the event.
The AgriCultural is located at 102 City Park Rd in Boerne, TX
PARTICIPATING ARTISTS: For more information contact Paula Horner, HCCA 210-269-8349
PARTICIPATING VINTAGE VEHICLES: For more information contact Kristy Watson, The AgriCultural 210-445-1080