*** Event Postponed: Due to Covid-19 Restrictions ***
_________________________
8/14/2020 Announcement:
We have been monitoring the situation with Covid-19 mandated restrictions for hosting events with large groups of people in close proximity to each other.
Unfortunately we have to once again postpone our AgriCultural Gala Fundraiser. I have been in discussions with the two big bands that were to perform, The Boerne Village Band and the Lone Star Swing Orchestra with Bill Smallwood. It has become clear to us that to host such an event at this time would not be possible.
We will monitor the situation as it develops over the next few months before picking a new date. The 2 Big Bands Gala is a dream that I truly wish to see fulfilled in the near future, because I believe it will be one to be enjoyed and remembered.
Thank you for your continued support. Please consider donating to our AgriCultural Museum & Arts Center, attend our art classes, tractor pulls, and other programs that we are still able to put on during this unfortunate lock-down that has brought the world to a stand still when we would rather just swing dance!
Sincerely,
Kristy Watson
President of the AgriCultural Museum & Arts Center
_______________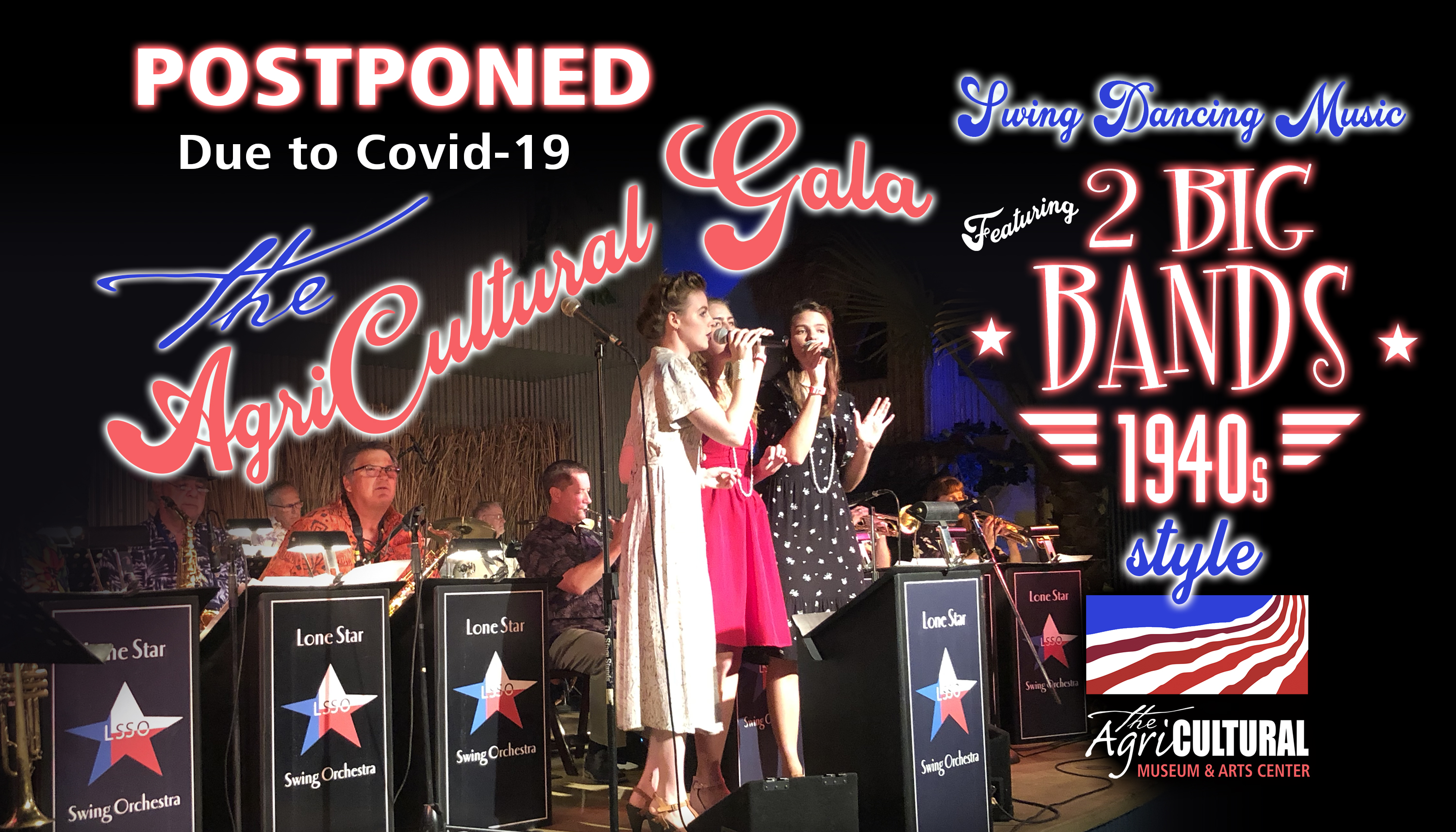 Our Annual fundraiser for the AgriCultural will be an event to remember. Join us for 2 full Big Bands as they entertain us all evening in our Big Red Barn.
The Boerne Village Band will begin the evening at 6:00 with big band tunes like you've never heard them play before.
Then, headlining the evening, the 16 member Lone Star Swing Orchestra will entertain the crowd with their 1940's swing style music and singing by Bill Smallwood and the Dillard Sisters (They sound just like the Andrews Sisters!)  There will be lots of dancing, door prizes, fundraising games and more!
A cash bar with beer, wine and a 1940's signature cocktail will wet your whistle. A full Bar-B-Q meal will be served as part of your ticket price.
Dress in your military regalia or 1940's themed outfits to add flair to the evening's theme.
Tickets are $50 per person. Limited 250 tickets, so get yours now! Seating is first come, first served with plenty of chairs and cocktail tables.
Reserved VIP tables are available by contacting Kristy at 210-445-1080 or emailing theagricultural@gmail.com
*** Event Postponed Due to Covid-19 Restrictions ***
Due to the concerns of event gatherings at this time and in consideration of everyone's health, we are postponing the date for our AgriCultural Big Band Gala until the Fall of 2020.

________________________________________